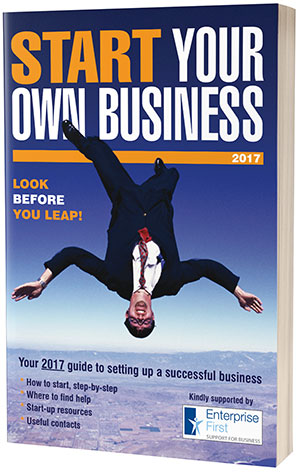 Start Your Own Business
Contents
Overview - easy to follow step by step guide
Advice - where to find help and support
Business planning - are you ready?
Market research - is there a gap in the market?
Business set-up - choosing the right structure
Premises - work from home or premises?
Finance & funding - your funding options
Accountancy & tax - tax and VAT explained
Business networking - tips and local groups
Getting online - online marketing, social media
Employing staff - how to find and recruit
Law & insurance - the key considerations
Common mistakes - and how to avoid them
Start-up directory - useful contacts
Download Complete Book (Free)
We are sure that you find the contents of this book both useful and interesting. It has been collated with the best of intent but we do also strongly suggest that you take relevant advice before making important decisions. Please do get in touch if you have any ideas as to how we can improve this publication or if you would like to be included in future editions.
Download Your Free Copy
Please note: one time registration required but this also unlocks all free resources on the site.