This FREE business start-up pack contains everything that you need to get you started.
It is a common trait amongst entrepreneurs to just want to 'get on with it'. However, if you want to maximise your chances of success, it is worth putting in time and effort before you start to ensure that you have set-up correctly.
This collection of resources has been put together to make the process as straight-forward as possible but also to ensure that you do not miss anything important. We hope that you find it useful.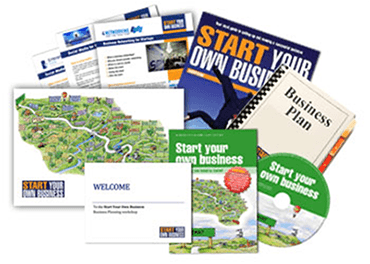 Start-up checklist
Step-by-step guide
Business plan template
Personal survival budget planner
Cashflow forecast template
Marketing plan template
Guide to business networking
Start-up map
Contents of CD-Rom
Plus more being added
Download Pack
Contents:
The key important dates, legal and tax requirements; a simple to follow step-by-step guide; relevant fact-sheets; business plan, cash flow forecast, survival budget and marketing plan templates; start-up map; contents of our Start Your Own Business CD-Rom; and a Powerpoint presentation.