Our free 99 point checklist can be downloaded immediately and without registration.
The Internet has made it very easy to search for 'start a new business', look at as many websites as you have time (and patience) to take in, and then conclude that you know everything that you need to know to start and run your new venture.
Our extensive checklist is designed to act as an easy to use, double check to make sure that you are aware of all the key considerations... and in some sort of logical order.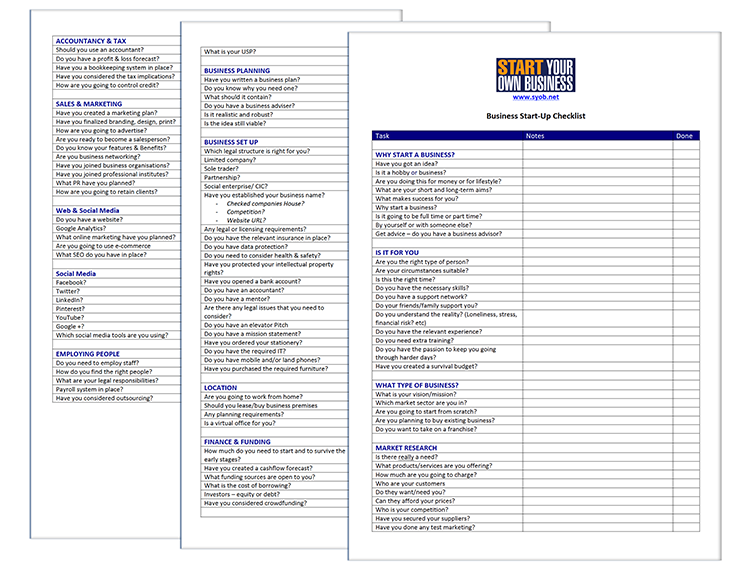 Download
Contents...
WHY START A BUSINESS?
Hobby or business?
Money lifestyle
Short term/long term
What makes success
Why start a business?
Get Advice
IS IT FOR YOU?
Personal skills
Support network
Reality (lonely, money etc)
Experience
Survival budget
Training
Are you the right type of person?
Are your circumstance suitable?
Is this the right time?
WHAT TYPE OF BUSINESS
Vision
Legal status
Market sector
Start from scratch
Buy existing business
Franchise
MARKET RESEARCH
Is there a need?
Products
Customers
Competition
Prices
Test marketing
What are you going to offer?
BUSINESS PLANNING
Why have a plan?
Contents
Downloads
Support
Plan for the future
BUSINESS SET UP
Legal structure
Insurance
Data protection
Health & safety
Intellectual property
Employing staff
Business name
Business banking
Business Law
Elevator Pitch
Mission Statement
Stationery
IT
LOCATION
Work from home
Business premises
Virtual office
Buy or Lease
FINANCE & FUNDING
How much do you need
Funding sources
Cost of borrowing
Equity or debt
Crowdfunding
ACCOUNTANCY & TAX
Profit/loss
Cashflow forecast
Bookkeeping
Taxes
Credit Control
SALES & MARKETING
Product/service
Pricing
Target market
Why should they buy from you/USP
Branding, design, print
Advertising
Selling
7 P's
AIDA
Features & Benefits
Business networking
Public relations (PR)
Customer retention
USP
Web & Social Media
Website
Online Marketing
E-Commerce
SEO
Social Media
Facebook
Twitter
LinkedIn
Pinterest
YouTube
Social media tools
Google +
EMPLOYING PEOPLE
Finding the right staff
Being a good employer
Legal responsibilities
Outsourcing